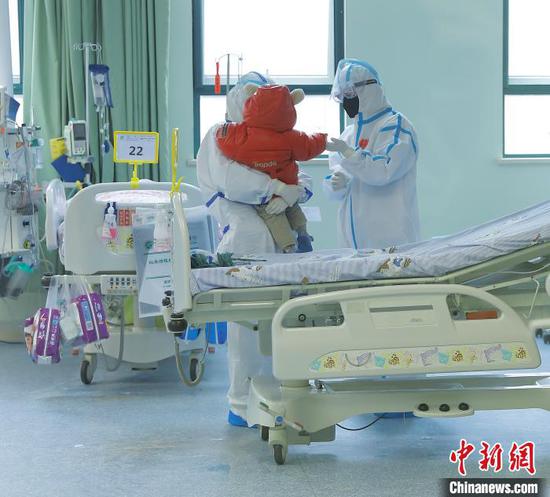 14-month-old says goodbye with doctors after recovery at the Wuhan Children's Hospital, Hubei Province, Feb. 13, 2020. (Photo provided to China News Service)
Special: Battle Against Novel Coronavirus
(ECNS) -- Liu Xin (alias), 14 months old, diagnosed with severe novel coronavirus pneumonia, was discharged from hospital Thursday after recovery.
Liu is the first such case among children infection across China.
The patient was sent to Wuhan Children's Hospital on Jan. 24 for fever and diarrhoea, and confirmed infected by the novel coronavirus on Jan. 27. Liu was later diagnosed with severe novel coronary pneumonia.
Thanks to expert treatment, Liu's condition had improved by Feb. 5.
Liu was subsequently discharged from hospital on Feb. 13.
On Feb. 11, a four-month-old baby infected with the novel coronavirus was discharged from Haikou People's Hospital in South China's Hainan Province.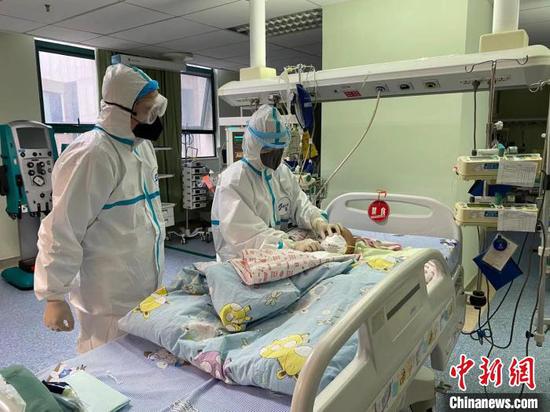 14-month-old undergoes treatment at the Wuhan Children's Hospital. (Photo provided to
China News Service)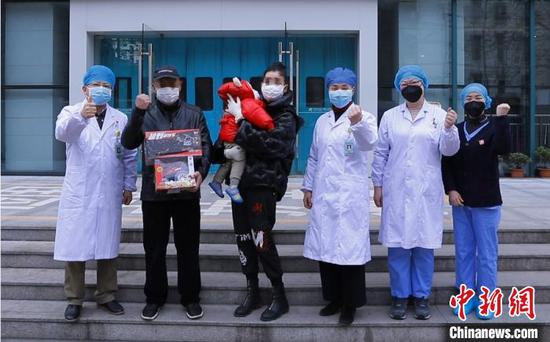 14-month-old and his family pose for a photo with doctors after recovery at the Wuhan Children's HospitalHubei Province, Feb. 13, 2020. (Photo provided to China News Service)