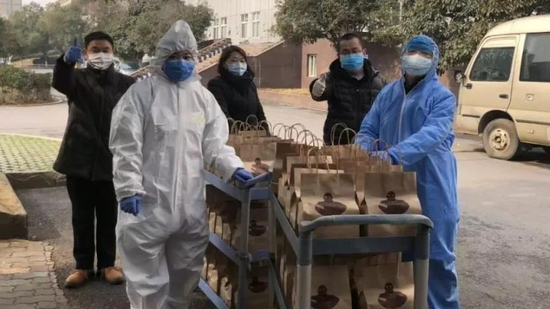 Coffee from Wakanda sent to the hospital. /Wuhan Metropolitan News Photo
Special: Battle Against Novel Coronavirus
The Wakanda coffee shop, located in the COVID-19 epicenter Wuhan, China, is receiving thousands of online orders across the country everyday, however none of these online customers are asking to get their coffee delivered to them.
It's rather a coffee treat meant for medical workers battling the novel coronavirus on the front line.
Wakanda started delivering free coffee to medical workers since the first day the Wuhan municipal government announced it would lock down the city. Starting from 9 in the morning, seven baristas take turns in the morning and night shifts, making 500 cups of coffee and delivering them to nearby hospitals.
"We noticed there is a huge demand in the hospitals after talking to medical workers who came for coffee," Wakanda Store manager Li Fei said. "They are working hard at the front line. Why don't we do our part to support them?"
Afraid of disturbing the order in the hospital, baristas deliver the coffee trolleys only two times a day – in the lunch time or in the afternoon when medical staff are switching shift.
In order to protect themselves, volunteers would transfer the coffee trolleys to the hospital so baristas do not have to make unnecessary direct contact with medical staff. It's also a way to save on protective suits in shortage.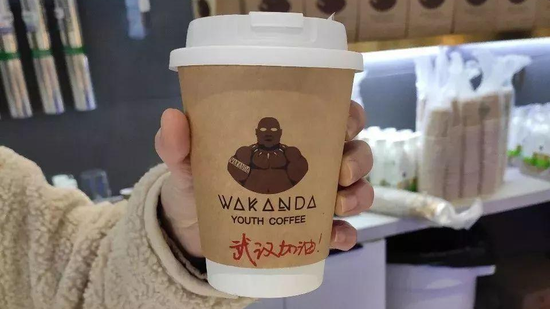 Baristas wrote down "Stay strong Wuhan" on the coffee cup. /Wuhan Metropolitan News Photo
"This is my home," said Sina, one of the baristas, who is from Iran. He refused to leave despite receiving two calls from the Iranian embassy offering to fly Iranians back home. "I would like to stay just like the other Wuhan people because they are like my family too."
Touched by Wakanda's story, people on the internet came out in support of Wuhan. They called for people to help place orders online and pay for coffee for medical workers, so as to lift the coffee shop's financial burden.
Wakanda then received 10,000 electronic orders in three days. As of February 14, Wakanda has delivered 7,850 cups of coffee free to medical workers in 20 days.
These strangers did not give for nothing. On each cup of coffee, a barista would write down the buyer's name and inspiring words, such as "it is so good to have you" or "respect for all your efforts."
"After the end of the epidemic, I will visit Wakanda in person! I believe the taste will definitely be better!" posted @Lanlandepengyou on Weibo, China's version of Twitter.