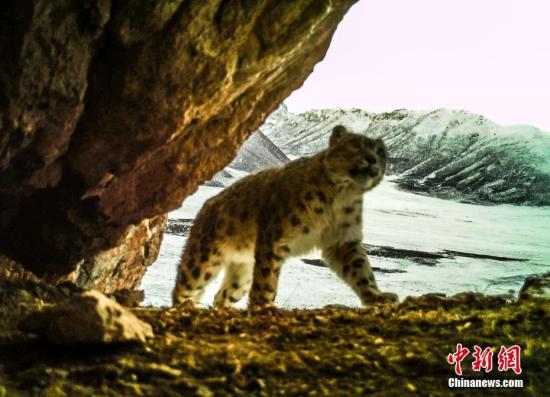 The image of a snow leopard was captured by an infrared camera in Yushu Tibetan Autonomous Prefecture, Qinghai Province. (Photo/China News Service)
(ECNS) -- Researchers have identified 40 snow leopards using infrared cameras in Zadoi County, Yushu Tibetan Autonomous Prefecture of Qinghai Province, the largest number in the world so far.
"A snow leopard is not identified by their facial features, but by their spots and stripes," said Zhao Xiang, director of the Sanjiangyuan project at Shanshui Conservation Center, on Thursday.
Researchers set up 80 infrared cameras and recorded over 300,000 photos to identify the 40 snow leopards.
Usually, a snow leopard is divided into several parts, and if three or more parts show the same markings, it will be considered the same animal.
Snow leopards are known as a barometer of high-altitude ecosystems, and their distribution spans 12 countries, including China, Kazakhstan, India, Nepal, Pakistan and Mongolia. In 1996,snow leopards were listed as endangered in China.
China is home to the world's largest distribution of snow leopards, accounting for 60 percent of their habitat in the world.